We welcomed the news announced on in July 2012 by Ken Hughes, the Alberta Minister of Energy regarding a pipeline safety review.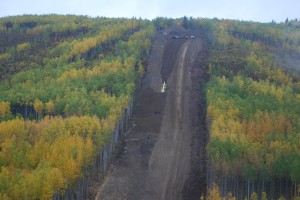 The Energy Minister Ken Hughes said his department has asked the Energy Resources Conservation Board (ERCB) to hire an independent third party to do the pipeline safety audit.
Three Aspects of Pipeline Safety to be Reviewed
The government has identified three areas of pipeline safety that will be considered in the review:
1. Pipeline Integrity Management (Question: How is it managed?)
Canadian Standards Association (CSA) Z662 Oil and Gas Pipeline Systems is considered the standard for the development, implementation, and monitoring of a pipeline integrity management system in Canada.
This standard is referenced in various sections of the National Energy Board Act, Onshore Pipeline Regulations such as
4. (1) When a company designs, constructs, operate or abandons a pipeline, or contracts for the provision of those services, the company shall ensure that the pipeline is

Designed
Constructed
Operated
Abandoned

in accordance with the applicable provisions of (d) CSA Z662, if the pipeline transports liquid or gaseous hydrocarbons.

Canadian Standards Z276 Liquefied Natural Gas – Production, Storage and Handling applies to liquefied natural gas.
2. Pipeline Waterways Crossings (Question: Is there any level of assurance when it comes to safety and can it be ensured?)
Alberta has developed a Code of Practice for Pipelines and Telecommunication Lines Crossing a Waterbody
Including a guidance document prepared by Alberta Environment & Sustainable Resource Development for interpretation of the specific sections within the Code of Practice.
There is a provision under section 13 (1) to monitor the works for the operational life span of the crossing according to plan submitted under section 6 which includes monitoring provisions.
There is also the Pipelines Associated Watercourse Crossing (3rd edition) that was a collaboration with the Department of Fisheries and Oceans, the Canadian Petroleum Producers (CAPP), Canadian Energy Pipeline Association (CEPA), and Canadian Gas Association (CGA) to develop a best management practices document.
3. Pipeline Incidents and Emergency Preparedness and Response (Question: How is the response being handled?)
All companies who operate pipelines would be expected to have an Emergency Preparedness and Response Plan (EPRP) to address incidents and it would be considered an integral component of pipeline safety management.
CSA Z662 guidance which may provide some insight into EPRP components or help in building a plan is under:
Annex A for Safety & Loss Management
Annex B Guidelines for Risk Assessment of Pipelines
Annex N Guidelines for Pipeline Integrity Management Programs.
Most companies would develop, implement, and monitor an Emergency Preparedness and Response Plan (EPRP) specific to their company needs as well as to the nature of their business.
One would expect companies to test their plan through mock drills on an annual basis and assess these drills to ensure continual improvement. Also, an internal review of actual responses to incidents is critical.
This pipeline safety review is important to Alberta as the province and industry rely on pipelines to move product throughout North America as well as the potential opportunity to expand markets into Southeast Asia.
Full story from CBC News:  Read article »