There are some key concepts to consider in First Nations capacity building.
These concepts include:
Capacity building strategy
Opportunity management
Capacity building options
Monitoring implemented initiatives
What is capacity building:
An organizational need focused on developing capacity
Described as a process of enhancing organization or community abilities
To open doors to employment or business opportunities within a community or organization
Opportunities may provide:
Employment  for community members,
Provide expansion of existing business or
Creation of new businesses
First Nations capacity building can be a potential employment and/or business generator for First Nation communities.
Capacity Building Strategy

To consider these opportunities, First Nations should identify the key components of their capacity building strategy.
Key components to First Nations capacity
building may include:
Developing a conceptual framework to identify priorities
Establishing an organizational attitude (i.e. development corporation)
Developing a vision and strategy (i.e. incorporating community values)
Developing an organizational structure (i.e. economic development officer)
Acquiring the skills and resources for community members (i.e. gap analysis)
First Nations Capacity Building and the Concept of Opportunity Management
A concept which adds value when considering First Nations capacity building is opportunity management.
Opportunity management focuses on:
A process to identify potential employment and business opportunities that could be implemented to sustain or improve the community
Helps to  identify where an opportunity may exist and
The challenges that will be addressed by the capacity building initiative
These opportunities management process may provide focus for First Nations capacity building.
Measuring Capacity Building Effectiveness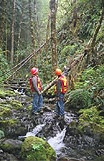 First Nations should consider tools used in evaluating the effectiveness of the opportunity and any identified alternatives.
Criteria can be developed and applied to proposed capacity building initiatives.
Identify Capacity Building Options
An option(s) should be identified during the driving phase of the capacity building initiative:
Potential leads are assigned
Accountability is established
Action plans are developed
Utilize project management
Monitoring the Implemented Initiatives
Monitoring the capacity building initiative is required.
A decision may need to be made to:
Advance the initiative
Rework the initiative
Suspend the initiative
This decision is whether the meeting the criteria established under  measuring effectiveness are met.
The initiative may need to be reworked which may require additional resources or just suspension of the initiative.
It is often effective to rework or suspend an initiative prior to expending resources on a business opportunity.
Especially one that does not yield community employment or business opportunities.
Capacity building when successful can form an integral component of growth for First Nation communities.